Magda Kastelic Hočevar was a retired teacher who, after leaving her professorship, took off into the world of jewellery design, a passion that has always accompanied her between the skills of a true craftswoman and high school. If she became a professor, the merit is her great pleasure for teaching. Over the years she has continued her didactic activity organizing numerous creative events for children such as sewing, knitting, embroidery and crochet.
She has always been active in numerous creative fields, putting herself to the test with great passion and love. After retirement, she dedicated herself to designing jewellery using different materials: from metal wire to fimo mass, fabric, beads and even painted silk!
Magda's skills do not stop at jewellery; she also finds gold in words and is a poem writer. To this day she has already published three collections that have been illustrated by the masterpieces of the painter Irena Polanec that are part of the series "Eve" and depicting female figures numbered and signed with the name of the first biblical woman.
Magda is also the sponsor of our school of models, the Bernie Models and always gives something original to our girls, while the boys she donates ties with youthful colors and that are fashionable!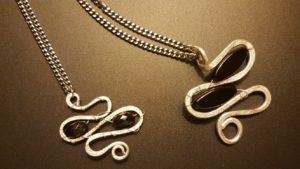 I Ileave you with some photos of her work, in my opinion, splendid. The stylized lucky snake, is made of an elegant line but also suitable for casual situations (like the one I wear at the meeting of the "500 entrepreneurs" ;D).