Nouba Cosmetics, which has its heart in Bergamo city in Italy, is the cosmetic brand also adopted by Anne Marie's Boutique in Slovenia. Nouba is characterized by a long lasting quality, and wide product coverage but at the same time gives a feeling of lightness, and above all there is an aesthetic care for the label given by the Italian passion, which is reflected in the elegance of the whole brand. Nouba follows a liquid base formulated on Noubamore, whose compound maintains a unique and unrepeatable patent. You can view other products available in Slovenia through the Anna Marie Beauty Salon online shop: https://www.anna-marie.si/trgovina-vsi/.
Life today is very stressful, the skin is particularly affected, it gets an irregular pigmentation as well as bad elasticity, wrinkles on the face are more marked due to everyday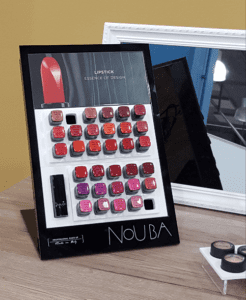 strain.
Nouba Cosmetics products have an immediate effect on the skin, they act in depth, improve cutaneous freshness and restore its tissue. I personally feel very good with Noubamore foundation, discreet and light that manages to give a touch of life to the face without creating the "compact mask" effect, try it to believe yourself!